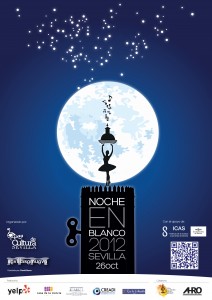 The Long Night (Die Lange Nacht) is an initiative born in Berlin in 1997 with the goal of offering a nocturnal cultural programm to the citizens. The opening of expositive spaces as an exceptional case and with annual character, supposes an incentive for the attending public, enjoying an atmosphere far from the daily.
In 2002, Paris gives another turn of the screw and presents it as the White Night (La Nuit Blanche) including scenic arts to the nocturnal cultural programm.
In Sevilla we enjoyed this event first in 2007. It was called La Noche Larga, and it achieved a great success among the Seville citizens for the three held editions, with a remarkable increase of the number of visitors. Nevertheless, the citizen answer was not kept in mind, judged by the withdrawal of public support for the 2010 edition. Since then, Seville has been consigned to be a mere spectator in the distance, observing how other cities, near or far, increase their sensitiveness for culture. This is a right and a precious good which must not be lost even in crisis.
On this occasion, from a position away from the public organisations, we pretend to spur on these as well as on private entities, so that Seville can be one of these many cities using and enjoying culture. Even happening it a night a year, it may be used to enjoy the cultural variety we own and maybe many still don't know.